Metal Depots is a leading supplier of metal buildings, roofing and components for homeowners, farmers, ranchers, do-it-yourselfers and contractors in the residential, agricultural and commercial industries.
Our products are manufactured by our parent company, Cornerstone Building Brands, the largest provider and manufacturer of metal buildings and components
in North America, which gives Metal Depots the opportunity to guarantee quality metal building solutions, speedy delivery times and some of the
best warranties available in the industry.
With numerous retail and manufacturing locations throughout the United States, Metal Depots is capable of servicing customers' metal building needs, wherever they may be. Metal Depots unique in-store experience includes building kits and roofing displays, with a design center to bring a building or a new roofing project from the imagination to reality. And our product experts are always standing ready to provide industry-leading customer service. Each Metal Depots location has a large warehouse that stocks our most popular items, and our swift delivery process allows you to get materials promptly. If we don't have it, we'll get it with minimal delivery time. Our commitment to service doesn't stop there. If you can't find what you need, call the Metal Depots location nearest you for help from one of our friendly metal building and roofing experts.
Schedule a Design Consultation.
---
Vinyl Fencing
Standard 3 Ranch Rail
Create a distinguished estate look for any home, multi-family complex, business, or commercial development - large and small - with Standard 3 Ranch Rail by PlyGem Fence & Railing. Vinyl ranch rail isn't just for the ranch anymore!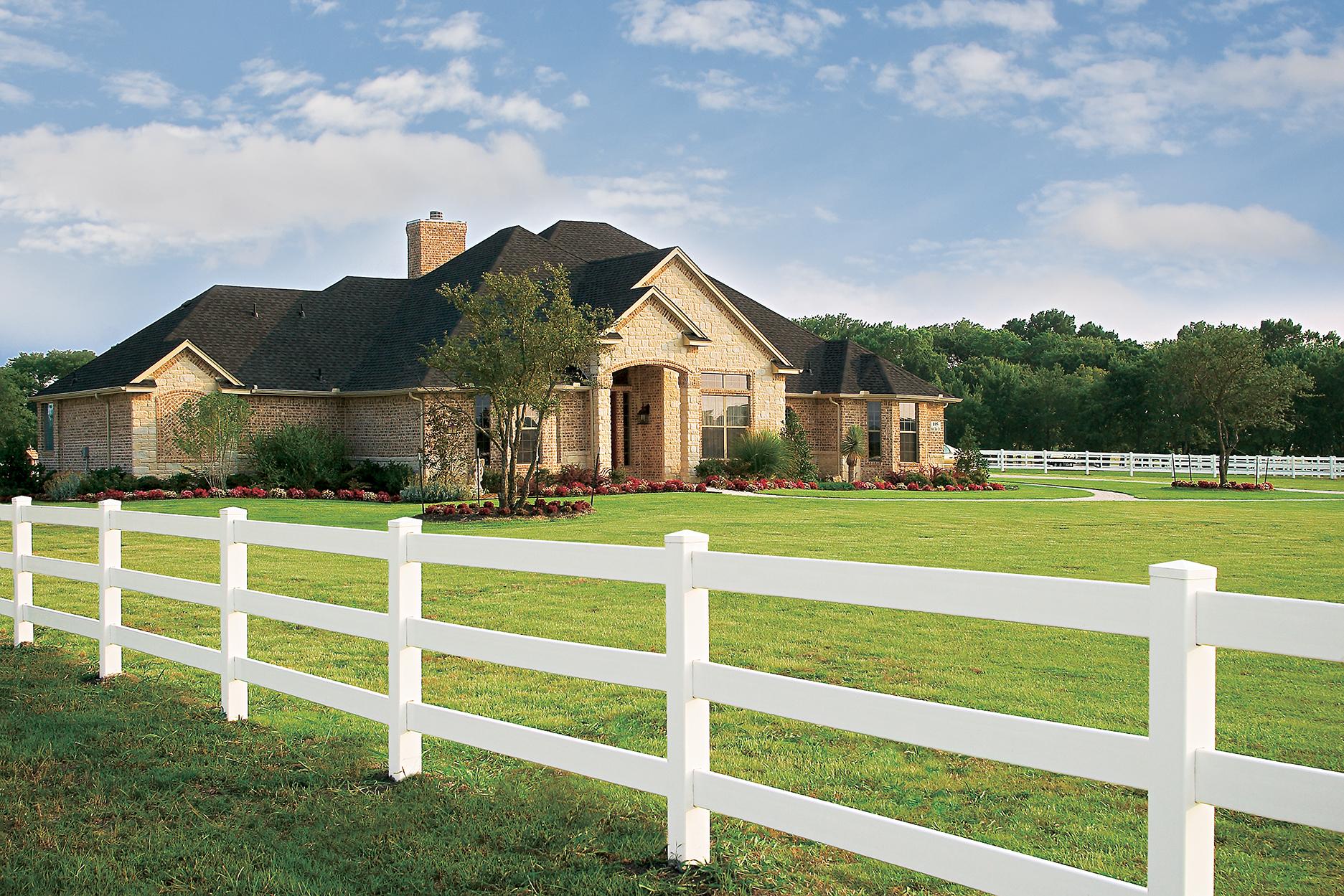 Product details:
5" x 5" posts
1 1/2" x 5 1/2" rails at 16' length
Stocked in White at select Texas locations
Available in Almond as Special Order at select Texas locations
---
Residential Roofing Applications
Metal is the most energy efficient, sustainable material for residential roofs. It offers exceptional performance for homeowners that want a great looking roof that results in lower energy bills, lower maintenance and better longevity than traditional shingles.
Learn more about our Residential Roofing Applications.
---
Commercial Roofing Applications
Metal Depots is committed to providing consistent quality and reliable service and support. You can count on Metal Depots to help you place your orders quickly and efficiently, whether you need a few components to complete your project or require an entire metal roof and wall system.
Learn more about our Commercial Roofing Applications.
---
Metal Building Color Visualizer
Metal Depots is committed to providing the most advanced options for your building, whether it's for your backyard, home or business. With
our new metal building color visualizer tool, you can envision your next building project. Choose from a variety of roofing and siding color variations to create a customized solution. We offer a broad selection
of steel building colors including Galvalume Plus Light Stone and Polar White. Here are a few tips on using our metal building color visualizer:
Getting Started
Start by uploading your own photo using the FREE metal building color visualizer web tool or you have the option to choose from one of our many sample images.
Pro-Mapping Service
After you have uploaded your photo, you have the option to continue using our color visualizer tool, or you can use our Pro-Mapping Service and let us take it from there. If you have any questions about our metal building color selector, reach out to our team for assistance.
Envision your next project today!
---
Common Metal Roofing Questions
Metal is the most energy-efficient, sustainable material for residential roofs. It offers exceptional performance for homeowners who want a great-looking roof that results in lower energy bills, lower maintenance and better longevity than traditional shingles.
How Does a Metal Roof Save Me Money?
Due to their energy efficiency, metal roofs can reduce the cost to keep your home cool in the summer and warm in the winter. You could also potentially see a reduction in your homeowner's insurance premiums because our metal roofing panels are covered by UL Class A* Fire Rating, UL 90 wind uplift rating and our Class 4 UL Impact Resistance (hail) rating. This means that our metal panels are fire resistant and can withstand harsh conditions whether you experience snowfall in the Midwest or hurricanes on the coast.
How Long Will My Metal Roof Last?
Because metal roofs are more resistant to extreme weather than traditional asphalt shingles and require less maintenance, they can last over 40 years, while asphalt shingles typically need to be replaced every 15-18 years.
How Do I Choose the Right Gauge?
U.S. manufacturers express metal panel thickness as a gauge, with 22-gauge being the thickest and 29-gauge the thinnest of the traditionally sold metal roof and wall panels. Approximately 80% of homes use a quality 29-gauge steel panel. However, more hail-prone areas could benefit from a thicker (lighter-gauge) panel. Lighter gauge (thicker) metal is also more forgiving of installation errors such as the over-tightening of screws, and it won't be as likely to transfer bumps and waves in the sheathing. Thicker trim pieces also lay more accurately, so some homeowners and contractors opt for 29-gauge roof and wall panels with a 26-gauge trim, a combination that is common and cost-effective. Our representatives can walk through your needs and decide which gauge is best for your home!