By McElroy Metal.
Measuring a roof for metal roofing needn't be stressful or complicated.
Measuring a roof for metal roofing can be tricky when taking into account multiple pitches and angles coupled with the fact that many homes don't have a perfectly square roof. Despite this, there is no need for discouragement. Here at McElroy Metal we've strung together a handful of our best tips for how to best measure a roof for metal roofing.
The basics: what you need to measure
The very first thing to do when measuring the roof for metal roofing is to draw out a top-down drawing of the roof. This drawing doesn't have to be perfect, but it does need to clearly label all of the features of the roof in inches and feet.
You should also include any porches or overhangs that are attached to the roof that will need to be covered in the new metal roofing. Your drawing can be as simple as a sketch on notebook paper.
Measuring roof slopes and including them in your drawing can be helpful, but they aren't required. Also, if you find that the roof slopes are lower than what is recommended for the panel system, McElroy can recommend alternative panel choices that fit your project needs.
Don't forget to include chimneys and skylights
There are a couple of things you will also need to label and measure beyond the basics like any porches that might be attached to the main roof.
Anything that protrudes from the roof should be taken into account. This could be a chimney or piping, but a good rule of thumb is to measure the dimensions of anything that protrudes from the roof.
Also, don't forget about skylights or other recessed areas.
Basically, anything that breaks up the smooth plane of the roof should be added to your drawing and labeled with measurements.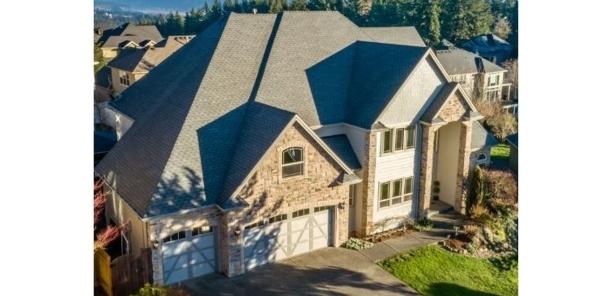 Tips and tricks
Don't measure to the edge of the shingles. The roof deck dimensions are what is important. Measuring this way means you can accurately consider the pull-back and overhang of the new panels.
Also, order the hip and valley panels a little bit longer than you think you need them (6" to 12"). A little extra material will go a long way if conditions are different during installation.
Learn more
Finding a partner you can work with makes selecting and preparing for a new metal roof much easier. You can find a McElroy Metal Distributor near you.
Learn everything you need to know about Residential Metal Roofing. Check out our metal roofing resources for inspiration and answers to your questions.
Learn more about McElroy Metal in the RoofersCoffeeShop® Directory.
Original article source: McElroy Metal