NTRCA (Not-so) Mini Trade Show
Mark your calendar now for the NTRCA (Not So) Mini Trade Show on Wednesday, August 4! The trade show is returning to a more familiar format with food being served and NO MASKS! Be there to see all the latest products and services from our vendors and partners. Get a table at the NTRCA Not So Mini Trade Show sponsored by Southern Shingles on August 4, 10-2, at Grapevine Convention Center.
Vendors/Associates: Interested in a booth/table? Contact kristen@ntrca.com.
---
Watch Who We Are!
---
The North Texas Roofing Contractors Association (NTRCA) is the premier resource for professional roofing contractors and associates working and doing business in North Texas.
What We Do
NTRCA offers educational training opportunities, keeps its members informed on industry standards, promotes its members, and advocates for consumers and the professional roofing industry in North Texas. The association also offers award opportunities and events throughout each year that allow members to network and learn from each other.
General Membership Meetings and Lunch & Learns
To better educate the members of the industry, we host meetings on the 2nd Wednesday of the month, generally at Texas Star Golf Course. The meetings range from OSHA trainings to informational sessions, to networking events.
Elevate Trainings
We believe in well trained professionals -- so once or twice a month we hold in depth training classes on a wide range of topics that better educate owners, inside office staff, sales people and those who actually apply roofing materials. Members are invited to attend these classes at a discounted rate.
Check out our Lunch & Learn and Elevate Calendar
Industry Standards
NTRCA promotes both residential and commercial roofing contractors who uphold the highest industry standards. Members of NTRCA must meet certain criteria to become members and must demonstrate best business practices. They must also agree to abide by our Code of Ethics.
---
Why Join NTRCA?
---
Roofing with Standing Seam Metal in English & Spanish
Learn all about working with standing seam metal from Golden Hammer Award winner Paul Ramon with Ramon Roofing. Paul will give you the insight you need into this specialty material to start selling and roofing today.
We will be offering this class in English and Spanish.
$150 for members. $200 for nonmembers. In person only.
Lunch is included. 3 CE credits. Limited to the first 40 to register.
Mini Trade Show
Each August, we take over Texas Star and host a Mini Trade Show to showcase our associate members and the services they provide to our contractors. This event usually features 60 vendors and we generally have 200 contractors in attendance.
Annual Gala and Awards Banquet
Each February we recognize two outstanding members in the roofing industry, honor top contractors with Golden Hammer Awards, elect a new Board of Directors and generally celebrate the roofing industry. Check out the 2019 Awards Gala!
Golf Tournament
As both a fundraiser and a networking event, the annual golf tournament is a hit with our members. It provides an opportunity to meet with other industry leaders in a casual atmosphere where fun is had by all. Check out the 2019 Golf Tournament!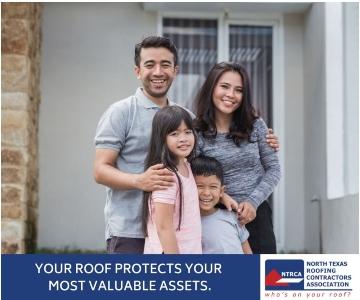 Clay Shoot
As a tribute to our hunting enthusiasts, this annual event is again structured for networking and fundraising and generally happens in September.
Fishing Tournament
Every October we head to Lake Texoma for a morning of fishing. Teams join us the night before for dinner where guides are auctioned off.
Public Relations and Social Media
Your roof protects the most valuable people, pets and possessions in your life. Make sure you're hiring an experienced, local, professional roofing company when your roof needs inspected, repaired or replaced.