By Ken Gieseke, McElroy Metal.
What to consider when choosing between removing or retrofitting an existing roof.
Building owners have two options when faced with replacing a commercial roof. The first option is to remove and replace the existing roof. The second option is to choose a retrofit solution. When making this decision, it's important to consider balancing the cost of the new roof with roof durability and maintenance needs. Building owners have found that the best solution is a metal roof retrofit.
1. Savings on tear-off expenses
One of the best advantages of choosing a commercial metal roof retrofit is the avoidance of tear-off and disposal expenses associated with remove and replace options.
By choosing to retrofit the existing roof, the labor of removing the roof is avoided, which results in substantial savings. In addition to labor, however, you also eliminate disposal fees which can be exceptionally steep depending on your location and the material you are disposing of.
2. Less downtime
Perhaps one of the most overlooked savings is the fact that the business and/or operations do not need to shut down at any time. Downtime for office workers, manufacturing processes, and general business operations can be extremely disruptive and costly. When you remove a roof, some downtime is almost inevitable. Commercial roof retrofits, on the other hand, allow business operations to continue uninterrupted since the original roof remains in place.
3. Safety considerations
Another advantage of commercial metal roof retrofits is that they are safer than remove and replace options.
During the roof removal process, workers are literally removing the platform they are standing and working on. Once the roof is removed, the installation crews are forced to work over open framing high off the ground. With roof retrofit options, however, the installation crews work and walk on the existing roof.
Another advantage of working on the existing roof is that it minimizes the chances of damage or injury from falling items like debris or tools. When the crew is working over open framing, any falling objects present a hazard for people and equipment below.
4. Shorter construction timeline
A shorter construction timeline is almost always one of the advantages of a retrofit over a remove and replace option. Installation crews can begin installing the new roof right over the existing roof without the time and expense required to remove the old roof first.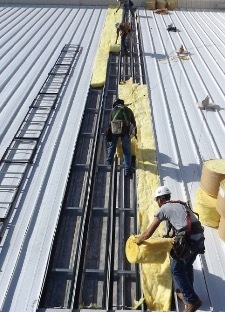 5. Reduced energy costs
Reduced energy costs are one of the potential long-term benefits of a commercial roof retrofit. During a commercial roof retrofit, you can choose to add insulation between the old roof and the new roof. Or, if the new roof is being installed over existing shingles, you can opt for an energy-saving ventilated air space between the two roofs.
When deciding on adding insulation, building owners should realize that according to the Department of Energy, 35% of energy costs for the average building is spent on heating, cooling and ventilation. Therefore, adding insulation can provide a big benefit in terms of heating and cooling savings.
If owners are not interested in adding insulation, be aware that this too may be another reason to consider a roof recover instead of the tear-off and replace option. When tearing off the original roof, some local codes may require that the building be updated to comply with current insulation requirements, even if that isn't a priority to the building owner.
6. Longer life
McElroy Metal supplies Galvalume-coated steel for all roof retrofit projects. This combination of coating and substrate is projected to last 50 to 60 years, far outlasting other roofing materials like shingles. Longer life and less maintenance lead to significant lifetime savings for commercial building owners.
7. Impact resistance
Metal roofing used for commercial roof retrofits is rated Class 4 for impact resistance. Class 4 is the highest rating possible for roofing retrofit materials so it will hold up better against wind, hail and debris damage, saving building owners from costly repairs. Class 4 roofs also lower building owner's insurance costs.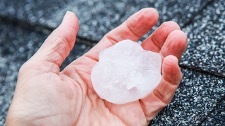 8. Curb appeal
Each building owner is going to have an opinion about what looks best. Metal roofing is available in a variety of styles and colors, which is important for steep slope applications that are visible from the ground. There are even specialty metal roofing options available that mimic the look of shingles, slate, tile or cedar.
For low slope applications, building owners typically opt for bare, or unpainted, metal panels because the roof is not visible from the ground. White roofs, which are highly reflective, are another common option for low slope applications if the owner wants to take advantage of additional energy savings due to its high reflectivity.
9. Fire resistance
Metal roofs are fire-resistant and deliver a safer alternative to most common roofing materials.
Metal roofing materials are all non-combustible and no more likely to be struck by lightning than other types of roofing.
10. Insurance discounts
Add up the safety features, the damage resistance, fire resistance and energy savings and it is clear why building owner insurance rates are often lower for a commercial roof retrofit using metal.
Learn more about McElroy Metal in their RoofersCoffeeShop® Directory.