By Roof Hugger.
Learn the common methods, do's and don'ts of retrofit roofing.
Metal roofs can be retrofitted in a variety of ways. However, many methods are not considered to be structurally correct and are subject to fail because they cannot withstand wind uplift or drift loads for snow. Our Roof Hugger systems are durable and have endured hurricane force winds from hurricanes Katrina, Ike, Michael and others without failing.
Roof Hugger has the most tested retrofit assemblies in the market today, using several different new and existing roof panel combinations for testing. It is this testing that ensures our systems are safe and structurally correct. Competitive systems frequently use calculated values without testing confirmation. Roof Hugger sub-framing systems have been installed on over 90 million square feet of existing metal roofs and continue to be installed on approximately 6 million additional square feet annually. This is the primary reason why Roof Hugger is the most specified metal-over-metal sub-framing system by building owners, federal and state governments, the military and school boards. Below are some frequently used methods and a list of their shortcomings:
Number One Don't

Hat section over existing metal roof high ribs:
Because of the width of the hat section, only one screw can be installed into the existing purlin. The other screw must be attached to the existing 26- 29-gauge metal panels, this does not provide sufficient pull-out strength.

Sitting on top of the existing ribs requires a long attachment screw and when exposed to thermal movement, they will "rock" back and forth causing the fastener to back out or fatigue and ultimately fail.
Roof Huggers provide a positive connection directly to the existing purlins made possible by our factory punched and nesting design.
Number Two Don't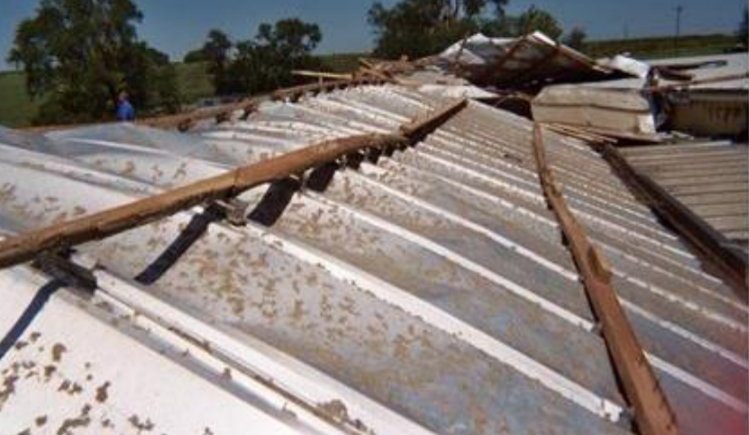 Wood purlin over existing metal roof ribs:
The same reasons as Number One Don't.

Quantity of fasteners for the new metal roof must be increased due to the much-reduced pull-out strength into wood, increasing installation labor and material costs.

Pressure treated wood is frequently used, it is highly corrosive when placed in contact with existing and new metal roofs.

If 18- 22-gauge hat sections are used in lieu of wood, these members have a low pull-out strength, reducing system capacity. When used with 16-gauge or heavier, high strength members, the system is still not suitable for through fastened (screw-down) metal roofs as they are too rigid for long panel runs to allow for expansion and contraction.

Roof Huggers are made from minimum 16-gauge, grade 50 steel and are Z shaped, allowing for expansion and contraction like the existing purlins.
Number Three Don't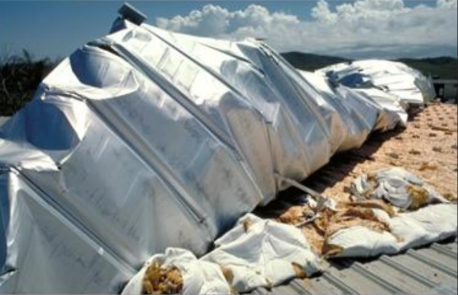 Stand-off clip over existing metal roof purlins:
Frequently it is necessary to reduce the purlin/clip spacing in the corners and edges of the existing roof to meet current codes. Stand-off clip systems are challenged to withstand the increased wind loads in these zones and often must add purlins under the existing roof to provide the correct clip spacing.

Roof Huggers can be designed with additional sub-framing attached on top of the existing roof, specifically engineered to reduce the existing purlin spacing and properly support the new panels to meet the new wind/snow load requirements.
Number Four Don't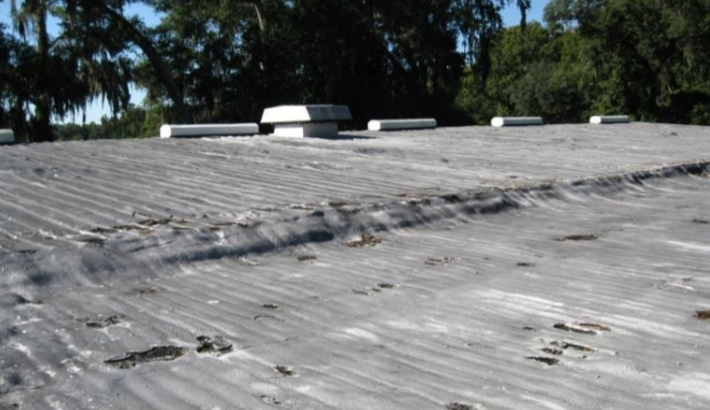 Sprayed-on coatings:
Most coatings are quick fixes that fail to permanently fix the existing roof.

Preparation of the existing roof is vital to the coating's adhesion and performance.

They do nothing to comply with new stringent building code wind speeds or snow loads and may hide deficiencies.

Roof Huggers provide you with a way to attach a new metal roof with a 50-plus year service life that can meet all current code requirements.

Read more about coatings here.
Number Five Don't: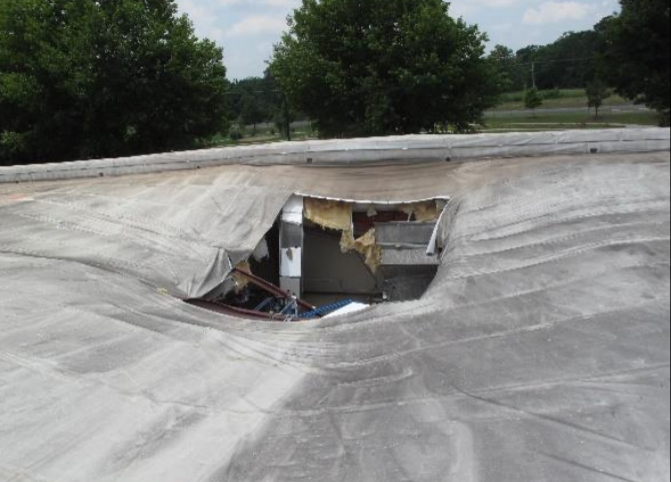 TPO over existing metal roofs
TPO systems have recently become popular because they are slightly less expensive than metal over metal systems.

Design and attachment is critical. In order to meet existing wind loads the TPO must be connected to the existing purlins per the manufacturers approved and tested details. Systems that are attached only to the existing roof panels, will not comply with the codes.

TPO systems must not allow water to accumulate on the roof surface or overloading and potential collapse is possible.

TPO systems do nothing to add strength to the existing roof to meet the new code requirements for snow drifting, they just add weight.

TPO systems have about half the lifespan of metal roofing systems, making their slight initial cost advantage a very poor investment.

Roof Huggers provide you with a base for a new long-life metal roof that can comply with all new wind and snow loads. Roof Huggers also create a cavity that can be used to add insulation for increasing the buildings energy efficiency.

Read more about TPO systems here.
Number Six Do: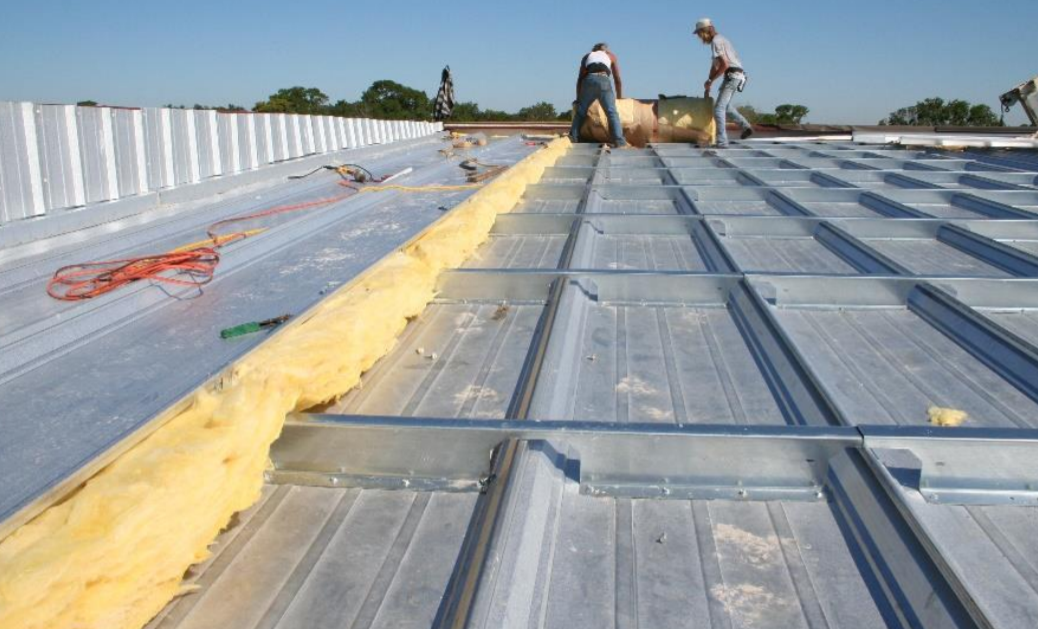 Roof Hugger sub-purlin system over existing metal roofs
Roof Hugger sub-purlins are specifically designed to fit over any existing metal roof system.

They are much faster, less complex and less expensive than removing and replacing an old metal roof.

They can be made to a specific height for adding insulation or removing steps in roofs that have created poor weathertight roof connections.

They can add strength to the existing purlins to overcome the additional weight of the retrofit.

They can be designed to allow the new roof to comply with today's stricter building code requirements.

Roof Hugger is the most tested retrofit sub-framing system available. They are made from high strength 16ga. (0.060 min.), 50 ksi, G-90 galvanized steel.

They will allow an existing screw-down metal roof to be upgraded to a standing seam roof without a major engineering analysis and upgrading the existing purlin bracing to make up for the removal of the diaphragm strength provided by the old roof panels.

Roof Hugger products are made in the United States.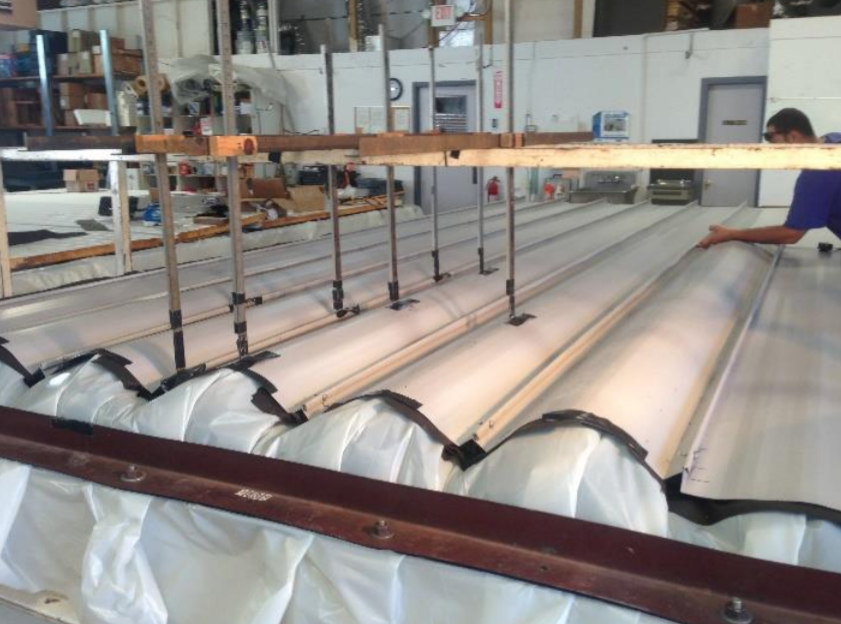 Learn more about Roof Hugger in their RCS directory.