Chicago Metal Supply Acquires New Rollforming Machine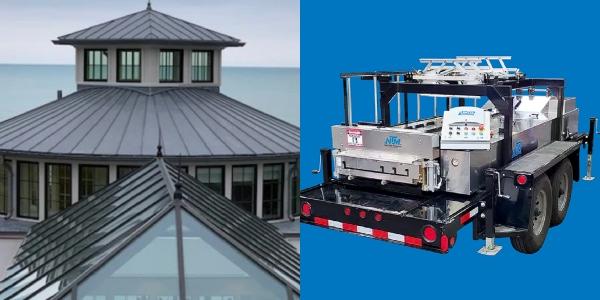 August 1, 2023 at 3:00 p.m.
By Anna Lockhart.
The rollforming machine from New Tech Machinery will allow them to create new panel profiles!
Chicago Metal Supply has recently acquired another piece of rollforming machinery that will allow them to create more variety of their own new panel profiles. The machine from New Tech Machinery (NTM) , the SSQ II™ MultiPro roof panel machine, features a variety of perks that will allow the CMS team to create the best products for both their residential and commercial customers. Here's a closer look at the details:
Features additional seam reveal options
New 2-inch double lock profile, in addition to CMS's existing 1 and 1.5-inch profiles

CMS will now be able to offer clients a taller seam option which better accommodates lower pitched roofs as it is more watertight
The 2-inch profile is a valuable one to have in the Midwest, specifically in Chicago, where snow and ice often sit on roofs for long periods of time out of the year
While the seam is more visible with a 2-inch profile compared to a 1-inch on elevated roofs, it creates a more aesthetic look that is pleasing to some owners on taller roofs

This machine offers additional striation options

Striations help with a metal's rigidity and oil canning but also offers more options for the design aspect of the job

This machine travels on a heavy-duty trailer and is gas powered, which allows CMS to service customers anywhere and everywhere, and is a great addition to their portable rollforming lineup
SSQ II™ MultiPro can handle up to 22-gauge steel and 0.40 aluminum
With these new features that the SSQ II™ MultiPro offers, Chicago Metal Supply is ready to take on new and exciting projects that this machine makes possible. With this machine added to their lineup, CMS is ready to offer a more diverse range of panel options that fit more customer aesthetic preferences!
Learn more about Chicago Metal Supply in their Coffee Shop Directory or visit www.chicagometalsupply.com.
About Anna
Anna Lockhart is a content administrator/writer for the Coffee Shops and AskARoofer™. When she's not working, she's most likely to be found with her nose in a book or attempting to master a new cookie recipe.
About Chicago Metal Supply
Chicago Metal Supply and Fabrication is an internationally award-winning, family owned business with an expertise in custom architectural sheet metal fabrication and a passion for preserving and restoring historical landmarks and heritage buildings.
Clients from around the world are drawn to us for our ability to fabricate a project of any size or difficulty using our unique, state-of-the-art equipment. Whether you're an expert builder, contractor or architect, or you're simply trying to figure out what's even possible with your project, our attentive and knowledgeable team guides you every step of the way.
---
---
Recommended For You