By Davis Memorial Foundation.
Congratulations to the 2023 scholarship winners!
This year the Davis Memorial Foundation is granting $50,000 to ten outstanding students for its 2023 scholarship season. Since 1997, the Davis Memorial Foundation has now awarded over $750,000 — and more than 170 scholarships!
These scholarships support the next generation of students and aspiring professionals by rewarding superior academic performance, and assisting students with financial need. The scholarship awards are made possible through funds established by our generous sponsors and fundraising events.
The Davis Memorial Foundation, now in its 27th year of supporting higher education, was established in memory of Larry and Mary Davis. Larry was an integral part of the roofing industry for many years serving on several roofing industry association boards which included the RCA of California and the Western States Roofing Contractors Association.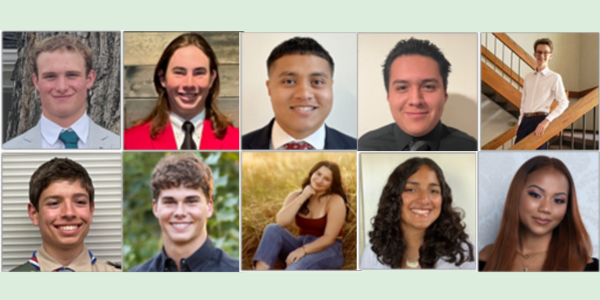 Congratulations to our 2023 scholarship winners!
Alex Foley, Texas Tech University
"Thank you so much for awarding me this great scholarship! I feel truly honored to be able to accept this. I'm really excited for this next stage of my life and your contribution helps me tremendously so thank you!"
Tristan Black, Yavapai University
"I am honored to receive this scholarship because it represents an organization that represents my passion, which is the construction trades and skills. I will be a part of many projects and design teams in college and plan to be employed in the field once I graduate."
Angel Muniz, Mt. San Antonio University
"Thank you so much to the Davis Memorial Foundation for awarding me this scholarship. This opportunity brings me one step closer to fulfilling my dreams of earning a degree in Architecture."
Boston Opetaia, Baylor University
"Thank you, Davis Memorial Foundation, for selecting me as a recipient of your scholarship! This scholarship will help me continue my education. Being a part of a four generation roofing family, I am aware of how hard this industry works. One day, I hope to be able to give back to your foundation and this industry as well."
Daniel Haefli, John Brown University
"I would like to thank the Davis Memorial Foundation for awarding a $5,000 scholarship to me. I'm grateful for the scholarship because it definitely brings relief to both me as a student and to my parents who support me. It's good to see all of what the Foundation offers to the students, and I'm honored to be one of its recipients."
Jonah Abigana, Cal Poly Pomona
"I owe many thanks to the Davis Memorial Foundation, as they are helping me pursue my goals in the construction industry. Thank you for your immense generosity and kindness towards me and my family."
Luke St. Michell, Idaho State University
"I would like to thank all of you that support the Davis Memorial Foundation Scholarship. I plan to represent you well with integrity and hard work as I pursue a career in welding and business."
Ryli Bowen, College of Marin
"Thank you so much to the Davis Memorial Foundation for this opportunity to further my education. I feel so grateful to have received this scholarship."
Saray Cortes, University of California Los Angeles
"I'd like to express my gratitude for choosing me as a recipient of the Davis Memorial Foundation scholarship. I cannot express with words how grateful I am for the generosity of $5,000 towards my pursuit of my bachelor's degree. This is my first year going into college as a first-generation student."
Siana Barker, Louisiana State University
"I would like to thank the Davis Memorial Foundation for believing in my dreams. With this generous support, I'll be able to further my education in Apparel Design and Merchandising at LSU. I am beyond grateful and honored to be a recipient."