By Anna Lockhart.
The GRIPPERFIX from S-5!® is a durable and reliable utility mounting system that contractors and building owners trust.
S-5! is a dedicated manufacturer and distributor of high-quality metal roof attachments and accessories that are designed to keep homes and their occupants safe and satisfied. For the last 30 years, S-5! has provided innovative solutions fit for any metal roof, and the GRIPPERFIX is one of them. Designed to provide a durable mounting system that maintains roof warranties by avoiding corrosion, the GRIPPERFIX system is easy to secure rooftop utilities with minimal penetration of the roof.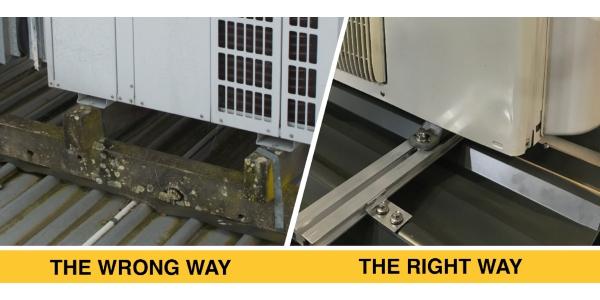 Improperly installing rooftop utilities can compromise both the roof and the equipment. Using the GRIPPERFIX prevents damage and provides long-term protection to both.
Thanks to its all-aluminum strut with stainless-steel components and innovative design, the GRIPPERFIX allows for free flow of rainwater under the rails, ensuring a long-lasting and noncorrosive mount. Additionally, this non-penetrative system won't compromise the integrity of the roof or equipment being installed. Not only is the GRIPPERFIX durable, but the system's easy installation and lack of hassle to mount nearly anything makes it a time efficient option for installation crews. Homeowners and contractors get the best solution at the lowest cost!
The GRIPPERFIX can be installed in no time. Created with user-friendliness in mind, the two struts of main hardware can easily be installed in under seven minutes. Contractors are also granted flexibility with the system, with versatile mounting options for nearly any roof. Simply adjust the axes to best fit the location, and mount anywhere!
This safe and practical system, with just struts, mini clamps and concealed-fix tabs, is the ideal choice for any metal roofing project. From installing HVAC systems, satellite dishes, light fixtures, conduit, service walkways or solar power equipment, the GRIPPERFIX system can be relied on to securely attach them to a metal roof!
Learn more about the GRIPPERFIX system and S-5!'s dedication to creating quality metal roofing accessories for their customers.
Anna Lockhart is a content administrator/writer for the Coffee Shops and AskARoofer™. When she's not working, she's most likely to be found with her nose in a book or attempting to master a new cookie recipe.