By Jobba.
On September 27, 2023, at 1 p.m. CT, Jobba will be hosting a special webinar on technology and why it's difficult for some contractors to implement successfully.
Jobba is pleased to welcome Chad Westbrook, founder of Service Alignment, and Ryan Kline, head of client services from Jobba, as they discuss this hot topic and give you the four-step framework the top contractors use to scale their success.
Chad Westbrook is a B2B sales and service expert who has dedicated the last 18 years to building sustainable, scalable sales and service teams. Chad has had some of the most influential mentors in the industry help shape what is a proven process today.
When asked about this topic, Chad said, "Building a successful business means it runs without you. Nobody cares about the roof. They care about their problem getting solved."
Ryan Kline is a technology and construction trades expert who has helped roofing contractors take their business to the next level at Jobba for the past 10 years. He has made it his mission to enable roofing contractors with the services required for an ever-evolving industry.
This webinar specifically will focus on a four-step framework to running a world-class organization and scaling with a process. The four steps are as follows:
People
Process
Technology
Goals
We hope that, in the end, roofing professionals will understand that success is based on a repeatable process that can scale without being dependent on "rainmakers" to drive the business.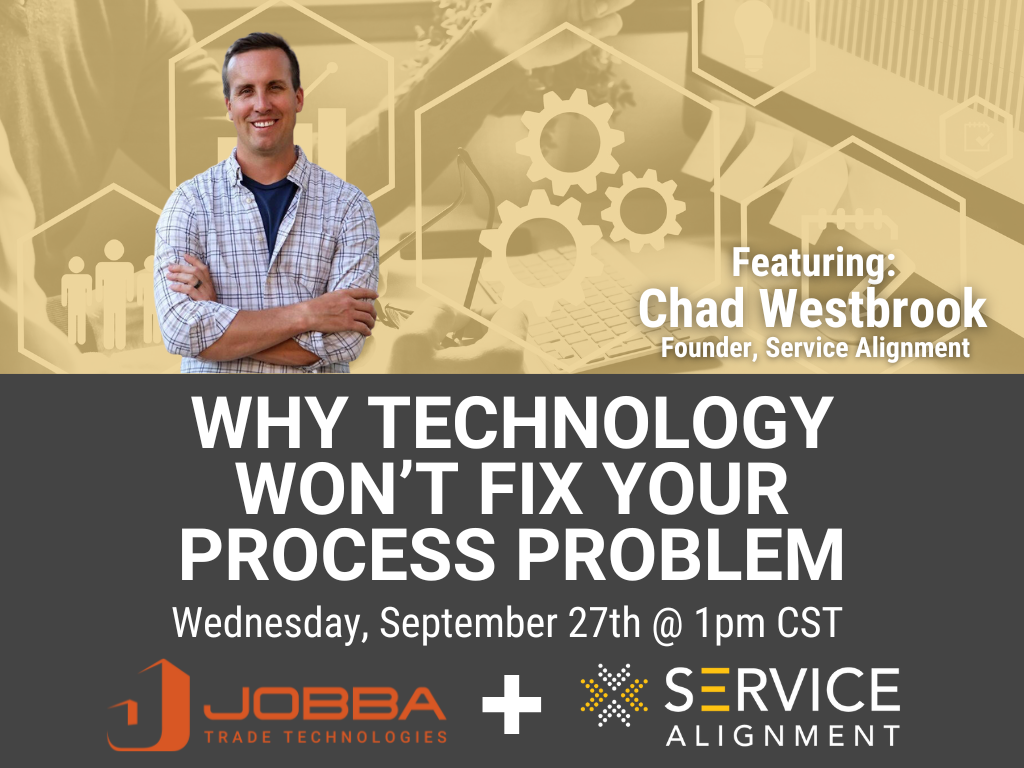 Don't miss our special webinar featuring Chad Westbrook and Ryan Kline — sign up for it here.
Jobba Trade Technologies is the leading provider of business management solutions for roofing contractors. Using a contractor-driven development approach, Jobba creates tools and solutions that roofing companies use every day to successfully operate their business. The cloud-based platform is full of innovative and easy-to-use tools that allow roofing contractors to manage every aspect of their business. For more information, visit www.jobba.com.