Established in 1991, METALCON is the largest international event in the metal construction industry. Unique in both its service and show management to this industry, METALCON is the only annual tradeshow and conference devoted entirely to the application of metal in industrial, institutional, light commercial and residential projects. Its success is based on three key components: education, exhibits and interactive, learning opportunities. METALCON is produced by PSMJ Resources, Inc., and sponsored by the Metal Construction Association. For more information, visit www.metalcon.com or call 800-537-7765.
---
Registration Now Open for METALCON 2022!

METALCON is roaring into Indianapolis this October! Don't miss your chance to experience the most innovative metal construction products and solutions and connect with the most respected metal construction industry vendors and thought leaders.
Discover the ideas, tools, and expertise you need to turbocharge your business and get on the fast track to Victory Lane at the only global event focused exclusively on the use of metal in construction and design!
What's New for '22
Metal Building Marketplace
This dedicated pavilion in the METALCON exhibit hall will create a convenient hub for contractors, the design and architectural community, and others to discover the extensive benefits of metal building systems.
NRCA ProCertification® Metal Panel Roof Systems Hands-on Performance Exams
Roofing contractors: Give your business a competitive edge by encouraging your experienced field employees to become NRCA ProCertified® Metal Panel Roof System Installers! We'll be offering hands-on performance exams in the convention center before the exhibit hall opens.
Get $30.00 off your registration with code 30MCS2022 Register Now!
---
METALCON 2022 Ticket Giveaway!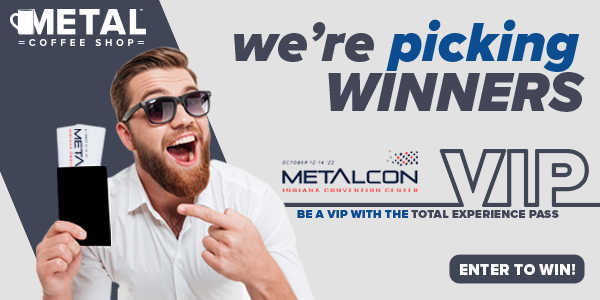 METALCON's unique Total Experience Pass keeps attendees busy on the show floor during exhibit hours by offering free non-stop education, keynotes and more in the Learning Centers and Theaters located in the exhibit hall. That is three days of unprecedented access, efficiency and education that you won't find anywhere else!
Winners receive one Total Experience Pass for entry to the show! These tickets have a value of $125 per pass, and MetalCoffeeShop is giving away 18 passes for FREE. Register for your free Total Experience Pass here!
---
Submit your company's top product for METALCON's Top Product Awards!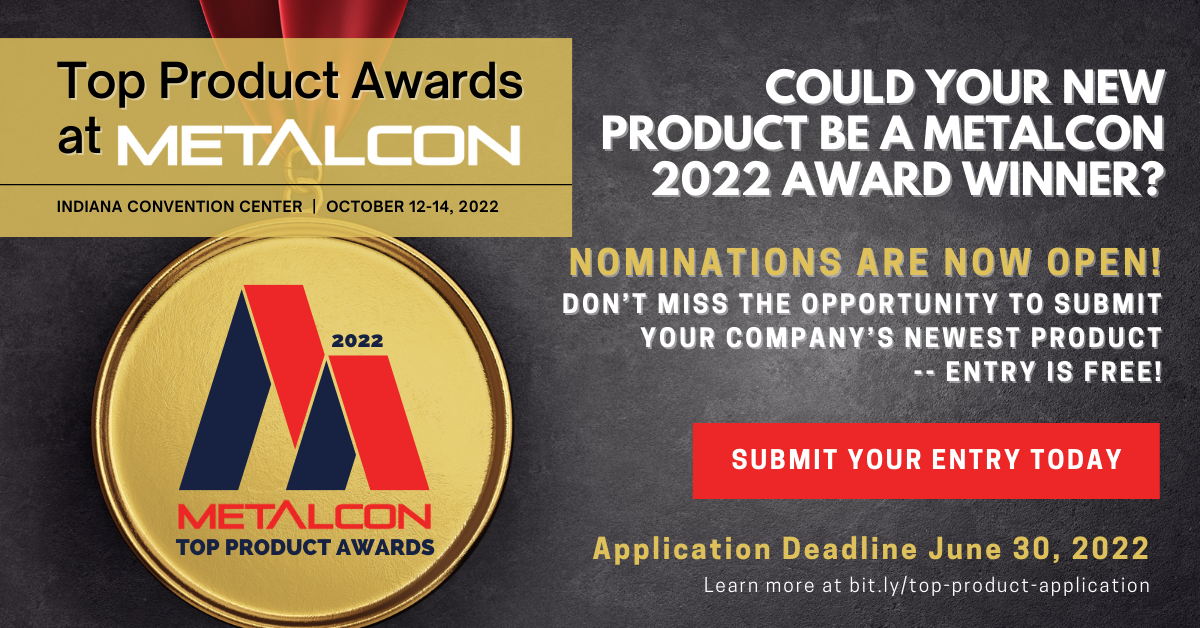 Exhibitors are invited to nominate their top metal products in a variety of 15 categories. To be eligible for consideration, a product must have been introduced to the market after January 1, 2021, and its manufacturer must be a 2022 METALCON exhibiting company. Exhibitors are eligible to nominate one top metal product in one product category only.
Why nominate your product?
Exposure! Your product will be exposed to thousands of decision makers and influencers

PR coverage! Enjoy the free publicity before, during and after the show

Booth traffic! Winners will receive special recognition at METALCON
Winners qualify for the People's Choice Award on-site at METALCON
---
METALCON 2021 - Full Recap!
---
Video Recap of METALCON 2021Day 2 - Tampa Convention Center
---
METALCON Project Photo Competition
METALCON launches a metal in design and construction project photo competition at this year's annual conference and tradeshow in Tampa from Wednesday, Oct. 6 - Friday, Oct. 8.
Architects, designers, contractors, manufacturers and owners are invited to submit high-quality photos of their best, coolest, most interesting and inspiring projects that feature metal in the interior OR exterior design in one of the following categories:
A panel of judges comprised of the Metal Construction Association (MCA) council chairs and other metal construction and design industry experts will determine one winner in each of the four categories with one grand-prize winner. Entries will be judged based on the use of metal in design and construction communicated through photographs, not based on photo composition. Entrants may submit multiple projects. Each project requires its own entry form and photo. Submissions including photo and entry form must be received by September 2.
Top entries will be displayed in the METALCON Metal in Architecture Gallery at the Tampa Convention Center during the show. Photos selected for inclusion in the gallery will be automatically entered to win. All winners will be announced at METALCON, and the grand-prize winner will be awarded a $1000 cash prize.
To enter, register your project at www.metalcon.com or go here. Project photos must be in color and high-resolution; download the specs sheet for more information.