The #1 Home Improvement Sales Trainers.
Grosso University is comprised of an elite group of trainers, consultants, marketing pros and industry executives who share a deep passion for and understanding of the home services industry.
Combining the legendry sales training of Rick Grosso with over 20+ years of experience growing some of the most successful Home Improvement companies in the world Grosso University has quickly risen to become the
industries leading sales performance company.
Our mission is to provide home remodeling companies with turn-key sales performance solutions that empower them to take their business to the next level. Unlike other training and consulting groups, Grosso University is currently active in the industry, operating one of the nation's largest home remodeling companies which allows us to provide training that is based on reality and not on theory. This unique approach ensures the tactics, strategies and methods we train on are tailored to coach you through the specific challenges you are currently facing.
---
Make More with Metal Roofing: Unveiling the Most Turn-Key Dealership Opportunity in History!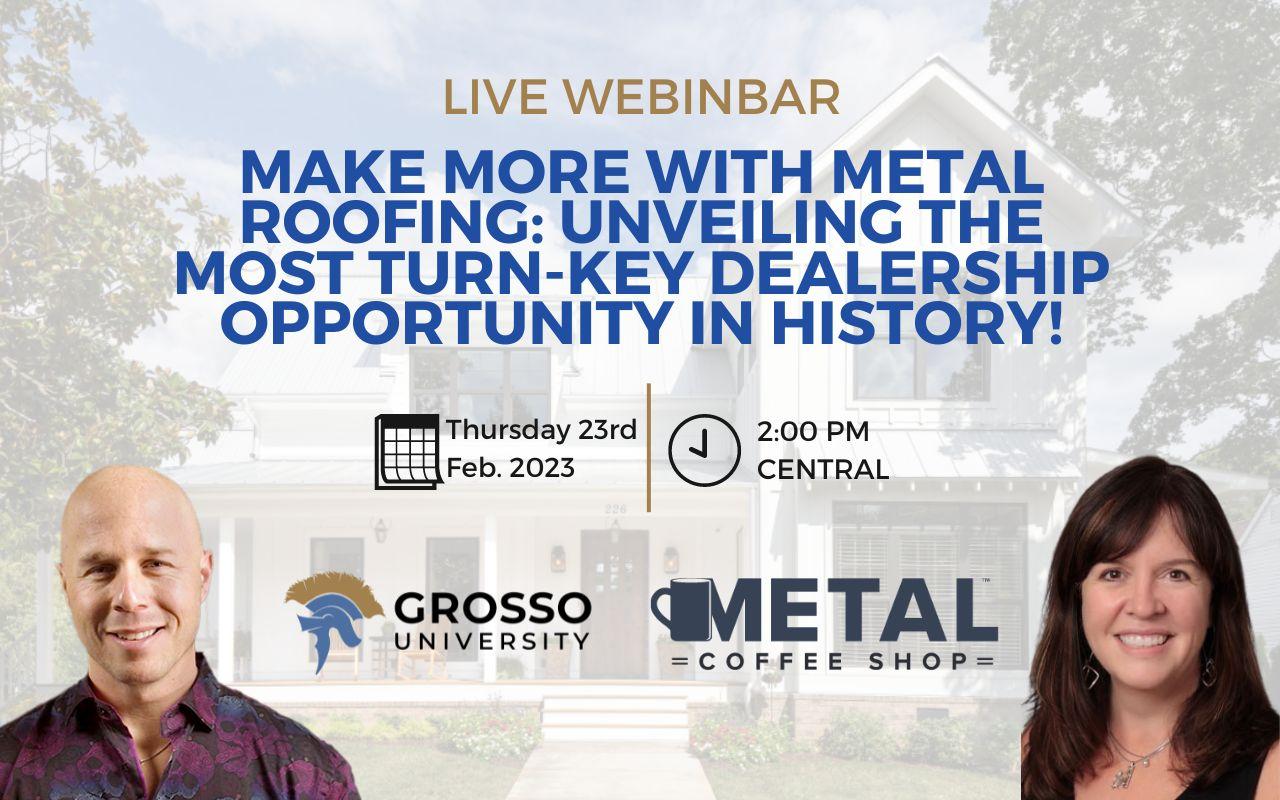 Feb 23, 2023 02:00 PM (CT)
Owner of Grosso University and Heidi J. Ellsworth,
President of MetalCoffeeShop, talk about the EXPLOSION of metal roofing sales in the home improvement industry and how you can get involved.
Working together with the Sherwin-Williams MetalVue program, Grosso University and MetalCoffeeShop are focused on providing metal roofing information along with the sales and installation training necessary for exterior contractors to Make More with Metal.
Dominic and Heidi break down the components of MetalVue and discuss why this is quickly becoming the most turnkey and profitable dealership opportunity in history! Register for this webinar to gain a wealth of information and learn how the MetalVue program can help your business from two industry experts.
---
AGOGE Summit: The Owner's Summit for Legendary Growth and Profitability
Inspired by the rigorous education and training program practiced by the legendary warriors of Sparta, the Grosso AGOGE was created to give owners the tools and best practices that they need to achieve perfection in every aspect of their business. Formerly known as "Owner's Camp," the AGOGE event will be fully focused on providing remodeling and home services business owners and top-level Management proven processes to dominate the competition and take their business to the next level. GU's AGOGE will feature an incredible lineup of presenters who are active in the business and hands-on workshops that will provide you with actionable items that can be implemented immediately to help overcome the biggest challenges the industry is currently facing! In addition, you will learn modern strategies and best practices in lead generation/handling, call center systems, pricing/margins, recruitment and training, production operations and much more!
USE PROMO CODE "RECORD23" AT CHECKOUT TO CLAIM YOUR TICKET!
USE PROMO CODE "MRCS" at checkout to receive a free ticket - while supplies last!
Due to the catastrophic damage caused by Hurricane Ian, the Marriot in Sanibel Harbour is no longer able to accommodate our event. Grosso University's AGOGE Leadership Summit will now be held March 28-30, 2023 at the beautiful Omni Hilton Head Oceanfront Resort in South Carolina. Our thoughts and prayers go out to the people of Florida who were affected by the disaster.
Grosso University's first-ever AGOGE Summit is officially rescheduled! 03.28.23
Learn more about AGOGE Summit.
---
Sign-Up for our Comprehensive Sales Training Bootcamp with Dominic Caminata!
For a limited time, any newly approved GreenSky merchant will receive a FREE 2-hour comprehensive Sales Training Bootcamp from GU founder, Dominic Caminata. Spots are limited and will be filled on a first come, first serve basis. If you would like to secure your spot or learn more click here to schedule a call with Dominic Caminata.
We also have a limited amount of complimentary tickets to our AGOGE Leadership Summit courtesy of Green Sky!
---
McElroy - Grosso Training!
Sign-up today to take part in this installation training for contractos!
---
Welcome to the #1 Sales Training System in the World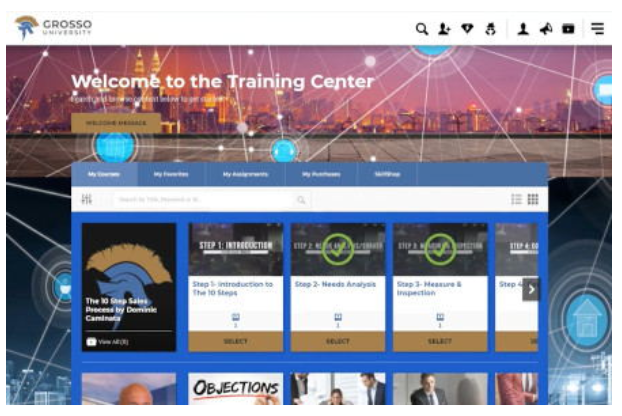 CEO-level content provides owners with detailed courses on sales management, marketing, & business development
Sales-level content is designed to transform your sales team into top-level sales professionals
Combining the legendary training of Rick Grosso, Master Trainer Dominic Caminata built the most comprehensive and effective sales process in the industry that is guaranteed to help your team excel in modern times. We provide a sales system that is trainable, workable, and repeatable and will give your sales team a clearly defined process designed to maximize results and close at 50%+!
---
Featured Event: Closer's Camp & CEO Breakout
Master the Art of the One-Call-Close at the World-Class Closer's Camp. Also, Explore Best-in-Class Business Tools in the CEO Track!
Become a One-Call-Close specialist! Master thelegendary Grosso 11-step selling system and you'll own the skillset to sell ANY buildingproduct in yourcustomer's home!You'll learn how to develop urgency with thoughtful-strategic questions, deliver a masterful presentation, overcome all objections, and EARN your prospect's business on the first visit with zero pressure. A comprehensive curriculum of powerful sales training packed into one unforgettable three-day event!
Bonus: You'll have the opportunity to earn your share of $8,000 in cash prizes- awarded to the top performers of the camp!
---
Join the #1 Sales Training System in the World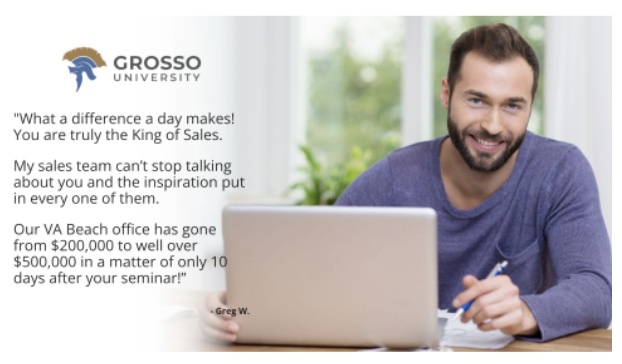 Combining the legendary training of Rick Grosso Master Trainer Dominic Caminata built the most comprehensive an effective sales process in the industry that is guaranteed to help your team excel in modern times.
We provide a sales system that is a trainable, workable, and repeatable that will give your sales team a clearly defined process designed to maximize results and close at 50%+!
What You Get:
New Training Courses Monthly! - With a new online home improvement sales training course presented every month, there is always fresh material to keep your staff motivated!

Progress Tracking - Easily track your progress through each training course with our user-friendly Learning Management System (LMS.)

Users Learn at Their own Pace - Team members can access the courses on their own time and on their own devices, allowing them to complete each course at a comfortable pace.
And so much more!
---
Universidad Grosso - Launch of New Spanish Training Platform!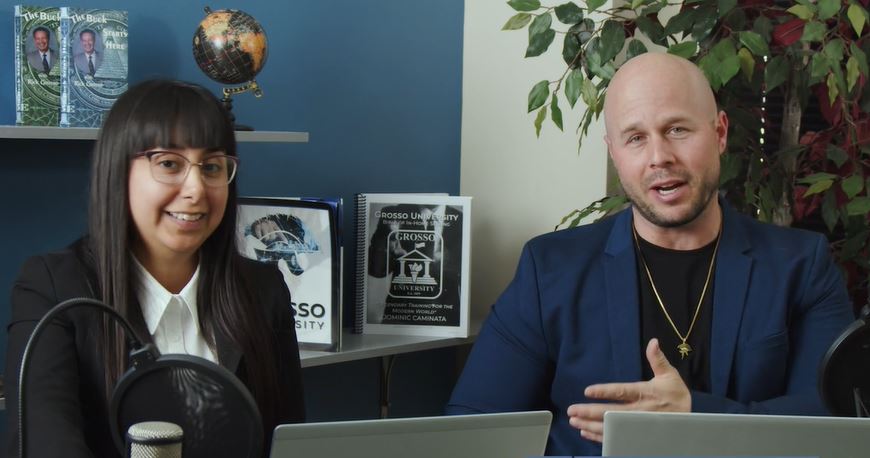 Grosso University is beyond excited to announce this groundbreaking webinar and launch of the Grosso Sales Training Platform in Spanish. Dominic Caminata will be joined by Wendy Harmeyer, Sales & Marketing Director and co-owner of a Universal Windows dealership. Wendy will also be presenting at a breakout session at Closer's Camp to announce the new program and host a Q&A. View the Closer's Camp agenda.
Wendy is a Bio-tech engineer who attended a Grosso U One-Step Close program and Closer's Camp and has since increased sales by 600% in 4 years, applying the processes learned through Grosso University.
Wendy grew into her current role from backend work to sales leadership and ownership, wanting to match her passion for teaching with her bio-tech training, and has successfully connected her engineering training to business and how people look at things.
In this webinar, Wendy and Dominic will discuss how Closer's Camp is not a copy/paste program. It is based on processes that help reps use their instinct of learning and doing more, to "keep getting better" and WIN! Wendy and Dominic will discuss this never before seen Sales Training program, and the benefits of training Spanish speaking reps to "grab the market", and allow people to buy what they want & need in a professional way. The Spanish speaking population is 20% of the U.S. population, and growing. This new Grosso University launch will help reps learn to train and sell in their language. We look forward to seeing you on the webinar and at Closer's Camp 2022!