Located conveniently in the heart of Indiana, Indiana Metal is the premier supplier for metal roofing materials and trims in Central Indiana – and beyond. At our fabrication shop in Bainbridge, Indiana, we roll form a variety of metal panels, including standing seam and mechanically seamed. Our fabrication abilities allow us to make custom copings, trims and commercial gutters in lengths up to 20'. We set our contractors up for success with installation training, sales training and portable roll former rentals, enabling our customers to roll form standing and mechanically seamed panels on the jobsite, drastically reducing waste, damage and allowing on-the-site length changes with only a push of a button.
We strive to be more than a supplier, we value relationships and aim to become a partner with our contractors and help them grow their business offerings and succeed in the metal roofing marketplace.
---
Contractors: Why metal? Why now? Why not?
Already a $3.3 billion dollar industry in North America, the metal roofing market is expected to grow by 4.3% through 2026. Metal roofing will bring more business your way, now is the perfect time to expand your product offerings and increase your company's profitability. As a roofing contractor, your reputation hinges on the quality of your work. Indiana Metal can help you elevate your roofing business with top-of-the-line metal roofing products that are durable, reliable, and visually striking. Our team of professionals has spent years perfecting our craft, and we understand what it takes to create metal roofing products that can withstand the test of time. With Indiana Metal, you can rest assured that you're getting the best products on the market. Whether you need custom metal roofing panels or standard standing seam roofing systems, we have the expertise to help you take your business to the next level. Our Metal Partner Program relies on the reputation of Sherwin Williams Paint Coatings, along with the innovative solutions of Indiana Metal to offer some of the most unique offerings available to contractors. Here you will find a complete list of all the tools you need to get your metal offerings running like a well oiled machine. They include:
Information about our sales & install training
Roofing Passport
Roll Former Rentals
Custom Trim capabilities
And more!
If there are additional resources you need, or if you need consultation on a current project please reach out to us at sales@indianametal.com and a member of our sales team will be in touch!
---
Weather Tight Warranties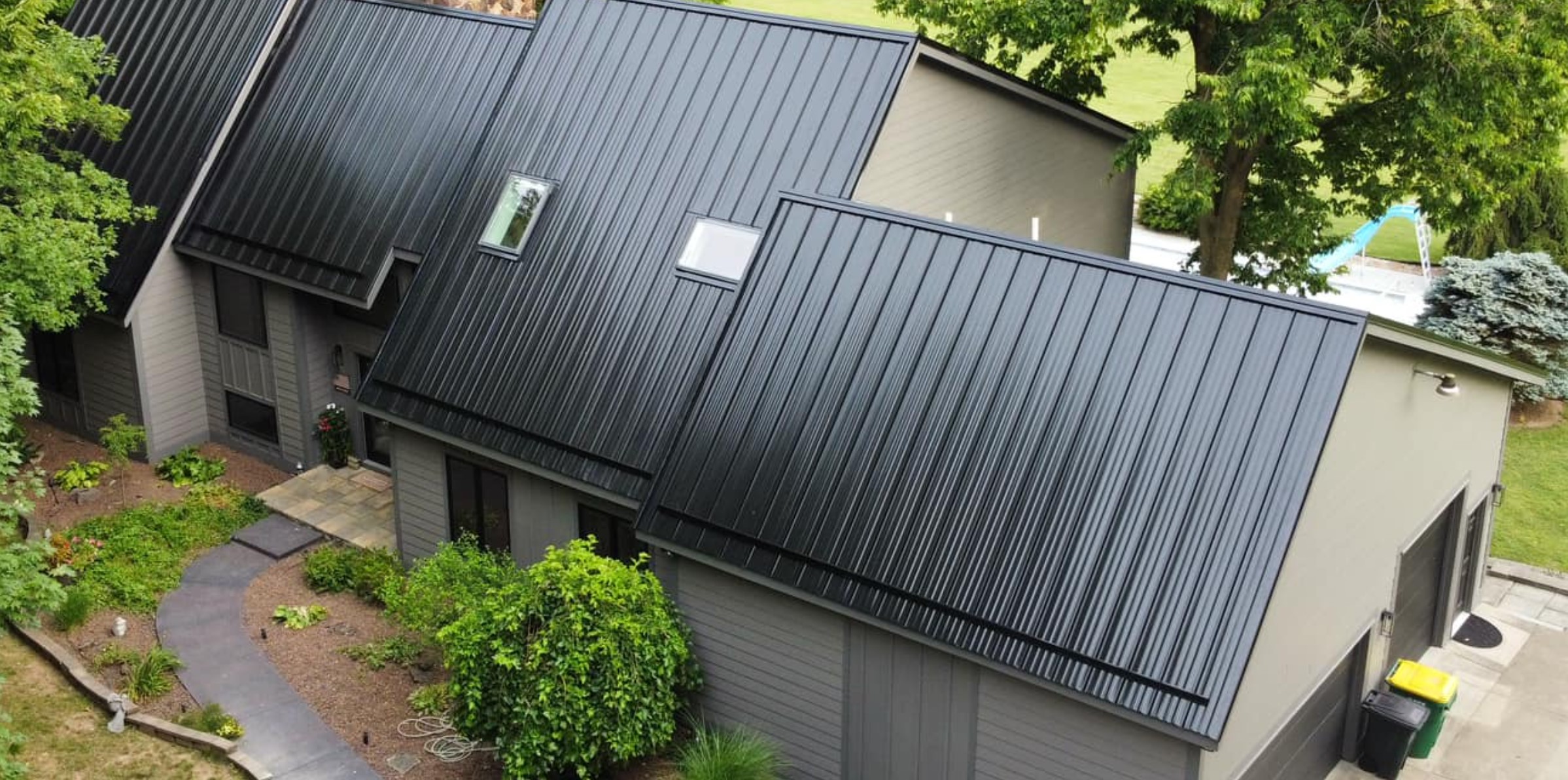 You sell the roof, an Indiana Metal Certified Sub Crew Installs it & Indiana Metal stands behind the finished product. Take the guess work out of metal roof installation – choose an Indiana Metal Certified Subcrew. Get your metal jobs done quickly, effeciently, without call backs and start seeing what kind of margin metal roof installs can make your company! All metal roof installs done by an Indiana Metal Certified Subcrew come with a 5 year Weathertight Warranty, giving your customer peace of mind and giving your company sales leverage to close the deal. Contact Indiana Metal at sales@indianametal.com to get in touch with a Certified subcrew today!
Apply for a Weather Tight Warranty today!
Read through our Warranty Requirements.
Learn more about our Warranties.
---
Metal Roofing Panels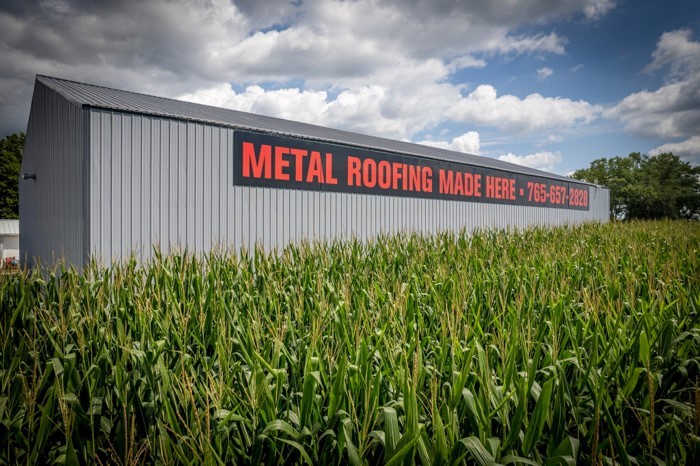 Indiana Metal supplies contractors with quality metal roofing panels and post-frame kits for all of Indiana. We roll form a variety of colors, gauges and panel profiles in our production shop. The MP36 panel is a panel with many uses – from siding to pole barns to house roofs, this versatile panel – literally – covers it all. The MP150 panel is a great option for residential standing seam, offering a high-quality roof system without the sticker shock of some of the more intricate options.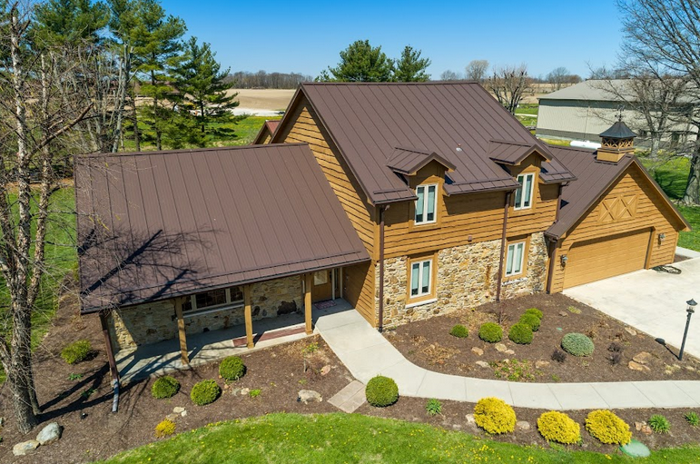 The MP675 panel is a high end system, typically found on both residential and commercial buildings. This panel features completely hidden fasteners on the panels & trims, rides on a clip allowing for maximum expansion and contraction during the lifetime of the roof and is UL certified for uplift. The MP210 system is a mechanically seamed system, traditionally found on commercial buildings or low slope roofs. A great choice for pitches down to as low as 0.5/12, this system also rides on a clip and features a UL uplift certification.
Learn more about our metal roofing panels.
---
Metal Roofing Trim & Flashing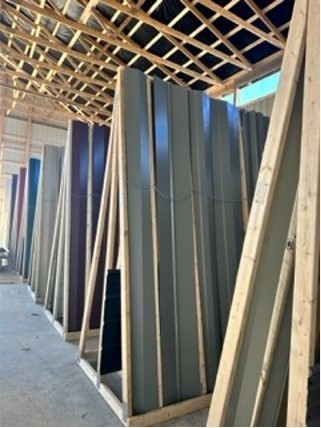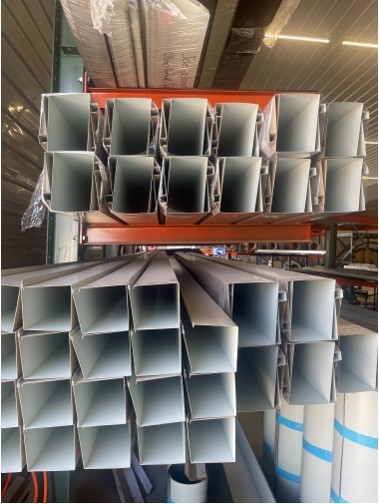 Indiana Metal fabricates all the basic trims needed for standard metal roofs but since many times a project is anything but standard we also specialize in custom trims in lengths up to 20'.
From commercial gutter systems to custom copings we have the fabrication abilities to make trim that will work for whatever job you're working on, with fast turn around times.
But if you need a standard part in a standard length, we have that in stock now!
Learn more about our metal roofing trim & flashing.
---
Portable Roll Former Rentals & Coil Return
Standing seam panels are all the buzz in the market right now. What if you could take advantage of the standing seam jobs without the upfront cost of purchasing a portable roll former and worrying about maintenance costs? Let us step in and help.
With our fleet of NewTech portable roll formers we help our customers succeed in the market by offering competitive rental rates without the headache of ownership.
Indiana Metal will load, pack and drop the trailer at your jobsite. Run the panels off all at once, or keep it there for the duration of the job – the choice is yours.
Indiana Metal also offers our contractors the unique ability to return any excess stock color coil left after a standing seam job.
With this program, Indiana Metal customers are able to order extra coil for a job, ensure they don't run short, and bring back the unused coil for the exact amount paid – no restock fee.
Learn more about our portable roll former rentals & coil return.