TRA Snow and Sun was originally named TRA Snow Brackets when it was founded by Terry Anderson, the owner of Anderson Associates Consulting, in 1996. Although he had years of experience solving roof problems, it wasn't until Anderson traveled to snowy areas of Europe that he finally discovered how to prevent damage caused by snow and ice sliding off roofs: snow guards. Learning that the European solutions were very different from standard practices in the U.S., he brought that knowledge back to America and was able to design Snow Brackets™ (also sometimes referred to as snow guards) and Snow Fences
(or snow rails systems) for all types of roofs.
During the winter months, as snow accumulates on your home, gravity causes the snow to slide which will begin to pull it down the slope of your roof. There are a number of reasons why this can be harmful to your home or even dangerous. With a snow retention system, snow stops and guards will hold the snow in place, allowing it to melt on the roof instead.
From our individualized care to our stellar services and products, TRA Snow and Sun strives to be above the competition when it comes to caring for the customer. We understand how crucial even the simplest of snow guards can be for home safety and for the safety of your family. We don't take this responsibility lightly, and we want to create what is best for you. Some of our products include snow guards, metal roof snow bars, roof snow fences, metal roof accessories and metal roof snow stops.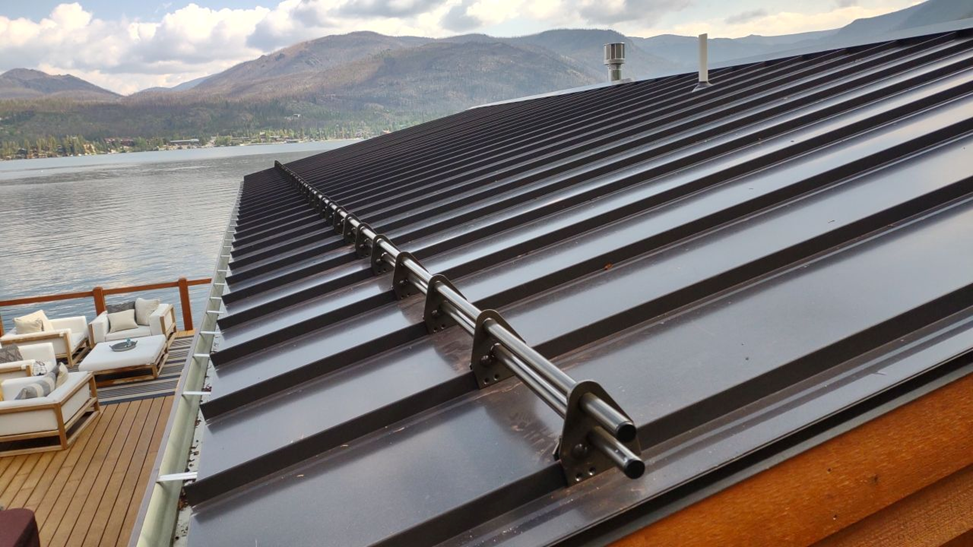 TRA Snow and Sun's product line saves property owners money and limits the possibility of personal loss because by installing snow retention you can:
Prevent danger to residents and guests.
Prevent costly roof and property damage.
Maintain safe access, keeping entrances/walkways free of snow and ice.
Promote energy efficiency by retaining snow which is a good insulation blanket. Trust in the best with the highest quality snow retention devices.
TRA Snow & Sun engineers snow retention systems, for asphalt shingle, cedar shingle, corrugated metal, flat seam metal, granule metal, metal panel, simulated slate, single ply, slate, tile, wood shake and metal roofs. These snow guards, snow stops and snow breakers are an essential part of a snow retention system.
---
Engineering your Roof for Snow and Ice
Quality and durability
Our products steal the show whenever it comes to quality and durability. Some snow guards run the risk of scraping paint off your roof or otherwise damaging the surface; our snow guards are designed to fit your roof smoothly, with no friction or disruption.
We are the manufacturer
This isn't just a promise for a product we found somewhere else. We made these snow guards and the snow rail systems. That's why we know them so well, and we can say with confidence that our snow guards are the best choice for your home.
Engineered solutions
If you have a tricky roof, you might have found out with other items, such as solar panels, that an engineered solution is far preferable to an off-the-shelf fix. Our snow guards can protect your roof because we look at each problem with an innovative eye, not just as something that's one-size-fits-all.
Warranted and tested system
And we aren't just telling you our product is great. We've tested, double tested and perfected our products. Our snow guards have been tested, tried and proven by countless users and engineers to ensure that they are the best quality snow rail systems we can offer.
---
Ventilation and Flashing
TRA Snow & Sun offers a variety of aluminum and copper roof flashing and roof ventilation products, including TileVent, TileSeal and VersaFlash. Roof flashing and roof ventilation go hand in hand, both being instrumental in protecting your home.
Just like our snow guards, tile ventilation and flashing solutions come in all different forms, based on what roof you have.
Big problems in the attic often come from weather-related sources or plumbing problems, both of which are fueled by a poorly ventilated roof. Having your roof properly flashed and ventilated beforehand can help prevent these problems.
Browse our roof flashing and ventilation products.