Franklin International is among the largest privately held manufacturers of adhesives and sealants in the United States.
Founded in 1935 as the Franklin Glue Company, the company thrived on innovation.
Launching unique glues for the furniture manufacturing industry, including the first ready-to-use liquid hide glue.
Today, Franklin International's products are distributed in over 60 countries and on six continents, most notably
under the Titebond® brand.
At Franklin International, we do more than sell products. We solve technical problems, and our solutions improve quality, enhance safety, accelerate manufacturing cycles, cut delivery times and, provide the basis for strategic marketing advantages and new-product categories. Committed to having the latest environmentally friendly adhesive technology, Franklin International devotes an unusually high percentage of resources to research and development.
Franklin's corporate headquarters are located in Columbus, Ohio where products are proudly manufactured in the USA.
Franklin International is still a family-owned U.S.-based company operating under the original philosophy: creativity and innovation with an intense focus on personalized service, superior product quality, technical expertise and total customer value. Franklin's primary goal is to become the most trusted adhesion supplier in the world.
---
Titebond Metal Roof Sealant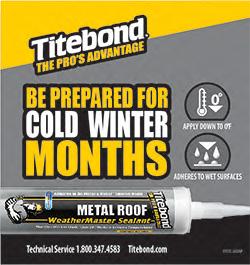 Looking for Roofers who need a metal sealant solution for high and low temps. From 0 - 300 degrees, see how Weathermaster Metal Roof Sealant works by getting this sample kit that gives you two tubes to try in the cold or in the hot. Titebond WeatherMaster Metal Roof Sealant is available in over 80 colors, all of which match today's popular metal roof and metal siding colors, regardless of material or manufacturer.
Titebond® WeatherMaster™ Metal Roof Sealant is specifically formulated to outperform all other sealant technologies, including VOC solvent, silicones, tripolymers and urethanes. This superior polymer formula provides a weather-tight seal against water, wind, dust and dirt. It offers exceptional adhesion to Kynar™ coated metal materials, along with standard metal, aluminum, steel, galvanized bonderized surfaces, plastics and glass.
The product is ideal for use on a wide variety of metal roof, trim, architectural metal siding, aluminum, galvanized steel, galvanized gutters, flashing and downspouts. It also provides unbeatable adhesion to wood, masonry, PVC and most common building materials. Titebond WeatherMaster Metal Roof Sealant is available in over 80 colors, all of which match today's popular metal roof and metal siding colors, regardless of material or manufacturer.
---
Titebond PVC Trim & PVC Trim Joint Adhesive
Titebond Ultimate PVC Trim Adhesive and Sealant and Titebond PVC Trim Joint Adhesive combine to address any PVC application and contribute to a higher quality project. Titebond Ultimate PVC Trim Adhesive and Sealant is a one-component, advanced polymer adhesive sealant designed for a variety of PVC trim, moulding, deck railing and beadboard installations.
It adheres and seals PVC trim to virtually any material including wood, metal, masonry, other PVC trim and more. Ultimate PVC Trim is white in color to match trim boards, can be applied in extreme weather conditions and provides a flexible, durable bond as well as a weather-tight seal.
This all-in-one adhesive sealant is designed to enhance the quality of PVC installations while decreasing the use of multiple products, leading to more efficient installations.
---
Two Products, One Solution: PVC
Titebond offers a duo adhesives that provide a system solution for PVC installation.These products meet the needs of PVC Installers whether they are looking to bond PVC to the home or bond PVC to itself.
Titebond PVC Trim adhesive and Sealant Adhears & seals PVC trim for a variety of applications
Titebond PVC Trim Joint adhesive bonds quickly, forming a complete joint that can be worked with in 60 seconds
---
Titebond DuraMaster Sealant
Got a gap to fill? Trust the highest performing sealant in the industry like the PRO's do, Titebond DuraMaster Sealant! Titebond® DuraMaster™ Sealant is the first high performance, water-based elastomeric sealant with 100% joint movement.
This revolutionary sealant offers excellent adhesion to most common building materials. It can span gaps up to 2" wide. It is paintable, UV resistant, mold and mildew resistant, easy to tool and cleans up with water.
*Clear offers 25% joint movement.